We conduct business with integrity and a sense of urgency. We help solve our customers machining challenges everyday. We utilize lean manufacturing to drive continuous improvement and operate with extreme efficiency. We share ideas and collaborate throughout the organization, with our customers and supplier partners. We succeed when our partners succeed.
Our Vision:
Be the global leader for machining, manufacturing and assembly of mission critical components. Provide our customers with superior quality and continue to advance, adapt and thrive in a global market. Create an environment where team members, our customers and our supplier partners are encouraged to innovate and are recognized and rewarded for their efforts.
Our Values:
*We put Quality First *We take Ownership *We operate with Integrity *We embrace Solutions *We perform with efficiency *We add Value to our Customers products *We provide Superior Customer Service *We Rise to the Occasion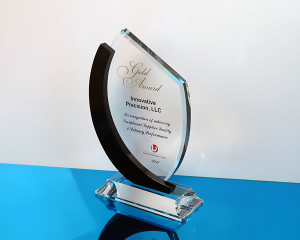 L-3 Communications presented Innovative Precision with a Gold award in recognition of achieving exceptional supplier quality and delivery performance. This award is only given to the top 2% of their supply chain. At Innovative Precision we take pride in supporting our customers with this type of high level performance.
Our mission is to develop lifelong relationships and deliver complete customer satisfaction. Our custom-fit process meets even the highest standards.
Here is what customers are saying about Innovative Precision:
AEROSPACE COMPOSITE MANUFACTURER
""Innovative Precision has been our preferred supplier for high precision machined parts because they pay close attention to detail and tolerances. It is great to have a superior supplier that has competitive pricing and delivery"
– Automation Design Engineer

AEROSPACE / MILITARY COMMUNICATIONS MANUFACTURER
"Innovative Precision consistently meets or exceeds customer requirements. They are proactive in providing a quality product. The customer support is exceptional, a real easy company to do business with."
– Supplier Quality Engineer

MAJOR AUTOMOTIVE MANUFACTURER
"I would recommend Innovative Precision to any manufacturing company looking to improve their bottom line. I see a bright future for Innovative Precision."
– Machine Shop Supervisor

MAJOR ELECTRONICS MANUFACTURER
"From prototype tooling to production type runs, their [Innovative Precision] flexibility, lead times, prices and quality are excellent."
– Mechanical Engineer

MEDICAL DEVICE MANUFACTURER
"I never hesitate to send my parts to Innovative Precision because they have the people, knowhow and equipment to make anything from the simplest to the most complex part."
-Mechanical Engineer

SPORTING GOODS MANUFACTURER
"We have enjoyed a very positive experience in dealing with Innovative Precision. They have been able to supply us with top quality parts in a timely manner, which has been a great help to us in meeting our deadlines."
– Tool Room Planner

MAJOR AEROSPACE MANUFACTURER
"Innovative Precision is a reliable supplier for our company. Their quick turn-around time for precision machined components ensures that we meet our customer's expectations."
– Machine Shop Supervisor

MAJOR AUTOMOTIVE SAFETY MANUFACTURER
"Innovative Precision has proven to be competent, competitive and reliable. Their quality and on-time delivery has helped me immensely."
– Tool Room Liaison